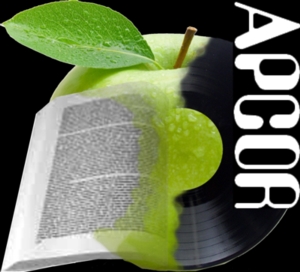 This is the website of Apcor Books and Records. Established in 2014 by three Apple Records aficionados and collectors, Apcor is the home of the A Is For Apple book series and much more. Have a look around at our products. If you would like to order multiple items, you can order any number you want, including the shipping for each item and any overpaid postage will be refunded immediately. Or you can ask us for a quote beforehand.
Due to the postal problems caused by the Covid-19 virus, we are unfortunately unable at the moment to ship our products overseas. For the time being we can only ship to European countries in Zone 1 and 2:

Europe zone 1: Austria, Belgium, Denmark (excl. Faeroe Islands and Greenland), Germany, France (incl. Corsica and Monaco), Luxemburg, Spain (incl. Balearic Islands, excl. Canary Islands), United Kingdom (excl. Gibraltar and the Channel Islands), Sweden.

Italy (we only ship by Registered Mail).

Europe zone 2: Albania, Andorra, Belarus, Bosnia-Herzegovina, Bulgaria, Canary Islands, Channel Islands, Croatia, Czech, Cyprus, Estonia, Faroe Islands, Finland, Gibraltar, Greece, Greenland, Hungary, Iceland, Ireland, Kosovo, Latvia, Liechtenstein, Lithuania, Macedonia, Malta, Moldavia, Montenegro, Norway, Poland, Portugal (incl. Azure Islands and Madeira), Romania, San Marino, Serbia, Slovenia, Slovakia, Switzerland, Turkey, Ukraine, Vatican City.

As soon as the postal services overseas have returned to normal, we will resume shipping to the USA, Canada, Russia and all other countries outside Europe Zone 1 and 2.

Stay safe and sane!